6clicks Risk Review for Teams: New Features
The first new feature to announce is the risk preview functionality. When setting up a risk review, once you've added your risk libraries, you can view the details of a risk before publishing the review. To do this, simply tap on a risk under the Risks for Review tab and a modal will appear showing all the details of the risk.
Also new to the review setup screen is the ability to add a due date. Setting a due date is super easy, simply tap the calendar icon and the date picker will be displayed.
Once set, your teammates will know exactly when they need to complete the risk review by. We'll also be releasing reminder emails later in the week, so stay tuned for those to ensure everyone completes their risk review on time.
And finally, we've released the ability to copy a risk review. Once you've published a risk review you have two options.
The first, which is not new, is the ability to Republish. This means that any changes you make in the risk review setup screen will be updated and republished to the current risk review.
The other option is Copy, which is just like the Save as button on a Word document. It creates a new published version of the risk review. This comes in handy when you want to be able to quickly run the same risk review again (and again) without overriding any of the old data.
To either Copy or Republish a published risk review, first tap the Republish button on the top right of the risk review setup screen.

A modal will then appear asking if you wish to Copy the risk review (Save As) or Republish the risk review (update the current risk review).
If you tap Republish, the current risk review will be updated with any changes you made. If you tap Copy, a new risk review will be created and published automatically. You'll see in the image below that the risk review called Board Review has been copied, with the copied version named: Board Review (10/05/20 19:06:55).
The copied risk review automatically uses the name of the original risk review and adds the date and time it was created. You can easily update the copied risk review, including risk libraries, risks, due date and name by republishing it. Please note that you will have to (re)invite users to a copied risk review (for now).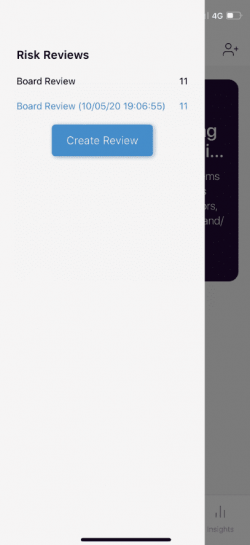 As always, if there is anything you'd like to see added to 6clicks Risk Review for Teams, feel free to email me at louis@6clicks.com, or call me on 1800 6CLICKS (1800 625 425).
Happy swiping!
Best,
Louis