Here at 6clicks, we have built a solution for advisors around the world to drive efficiency, improve service delivery and crack the vital time-to-value ratio.

Welcome to the 6clicks Partner Program!
The entire program is tailored to consultants, advisors, systems integrators and managed service providers looking to expand their offerings and build expertise in 6clicks.
Whether your expertise is in governance, risk or compliance—if you want to accelerate your growth, we want to help and support your success.
Bring on the Benefits!
Earn Referral Income
Earn between 20-40% company revenue share (depending on partner tier) and sales person / advisor commission per deal.

Streamline Service Delivery
Standardise your service delivery, leverage your IP and more effectively leverage your team.

100% White Label
Provide a fully branded risk and compliance platform and use your own content.

Launch New Offerings
Quickly launch new managed service, audit, assessment or risk management services using 6clicks.
The 6clicks Partner Program is designed for client-centric advisory, consulting, managed service providers and other sellers that want to learn, grow their business and use the best GRC software on the market!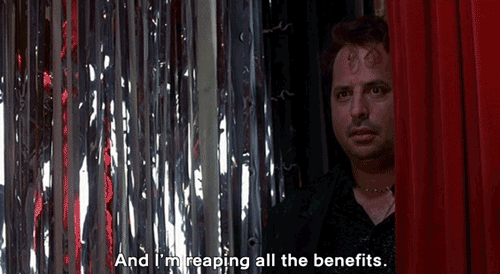 Our Partner Program Works Best if You Want To:
Revenue Share With Us
Participate in our revenue share model available for resellers and referral partners.

Streamline Service Delivery
You want to streamline your service delivery of professional and managed services.

Provide Implementation Services
Related to governance, risk and compliance software.
Select the Right Partnership for You
With hundreds of global customers, world-class training, a GRC platform with 3,000+ integrations and a supportive partner community - the 6clicks Partner Program is the place to launch your business into its next phase of growth.
Add new revenue streams, win more business and delight your clients when you partner with 6clicks. Choose Between Two Packages:
1. Referral Package
If you are not yet ready to commit to using 6clicks' advisor functions, the referral package is perfect for those interested in promoting 6clicks to clients and earning commission.
Here's what you get: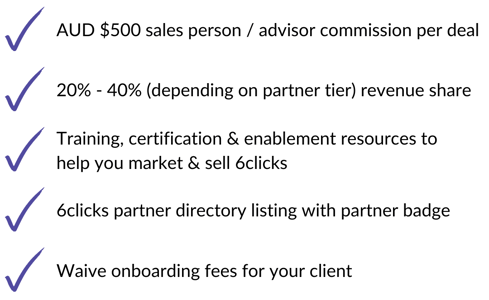 2. Advisor Package
Interested in using 6clicks to onboard and deliver powerful solutions to your clients AND streamline your service delivery?
Become a solutions partner and unlock the benefits that come with a deeper partnership with 6clicks, your clients and a global partner community.
Here's what you unlock in addition to the referral package:
Cool story, but how long does it take to implement 6clicks and be ready to service my clients?
Every company and business is different but generally, our partners ramp up quickly with our streamlined onboarding process. On average, we see partners ready to implement 6clicks and deliver services for their clients in just a matter of hours.
Under what circumstances is the onboarding fee waived?
Anyone who buys 6clicks software must complete required onboarding. When you become a certified solutions partner, you will be able to waive that fee for all of your clients that purchase 6clicks software and receive services from you.
As a referral partner, can I resell 6clicks?
No, you can only resell 6clicks as an advisor partner.
We Believe We Have the Best GRC Solution for Your Advisory.
The 6clicks Partner Program is here to give you the tools and resources to provide better risk and compliance outcomes for your clients.
So far, our community already has hundreds of consultants and advisors using 6clicks.
Megan Baltazar is the Global Head of the 6clicks Partner Program. Megan has the ultimate tiers and benefits guide for you, which can be found on our showcase page here.
With offices in Australia, the United States, UK and India - there is a 6clicks Maestro near you. To book your quick demo or get started with a free trial, tap the orange button up top.

Or, if you would like to apply to the partner program now, click the button below!
Looking forward to chatting soon!